It's the end of November and, honestly, I'm a bit late to getting outside to tend to my raised bed gardens. I finally got around to it on a cloudy and warmer than usual Saturday afternoon. I think if the rain had started I may have procrastinated another week. That seems to be to way of things sometimes. This weekend all of the urges aligned into a final clean up and prep for next year. The plants have done all they can do and now I have a bunch of organic material I can compost for next season. That alone will be helpful to replenish the soil with great nutrients.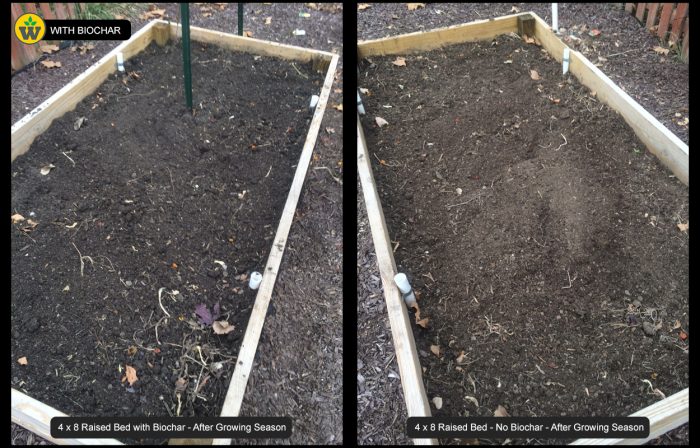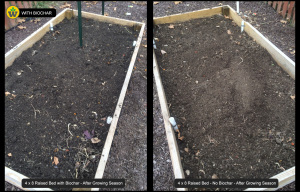 When I first started to remove the old tomato plants, squash, zucchini and peppers I starting to get a better glimpse of the overall condition of the soil. During the season I was really excited about the production of vegetables between the two beds. One had biochar and the other didn't. But I didn't really take notice of the soil as it changed through the seasons. Now that I was back into again I was curious what the soil would look like in my two raised beds. Other than Wakefield biochar in one bed everything else was basically identical. I even watered the gardens the same and put them in the yard where I think they got just about the same amount of sunshine.
The big point I'm making is that the bed with biochar looked like it was ready to jump back into another growing season. It was still black. I know this isn't the most scientific approach to an observation. I'm sure there are soil scientists across the country that would rather I send in soil samples to measure various levels of carbon, oxygen, hard metals, phosphorous, etc, etc. But the reality is that I was looking at two backyard gardens that hard been treated exactly the same all year. One has a bed full of black soil and the other has turned brown. My gut is telling me that the non-biochar bed has lost some of its zing (potency) over the year through erosion, poor conditions to retain proper organic balance, and the absorption into the vegetables planted in it.
Another point to make is that biochar is black… duh. But, I didn't put enough in the box to fill it completely or to change the overall color of the soil and compost around it. As a matter of fact, when you distribute biochar into a soil mix it isn't always obvious that it is in there at all. So, let's not say the biochar itself created the black soil we see in my garden. I do think the benefit of biochar is that it allows the soil to stay healthy by keeping the right balance of bacteria, micro-organisms, nutrients and water. By keeping everything in it's place wrapped in a wonderful pure-carbon container the soil stays healthier longer.
To sum up, this is just a casual observation of a backyard gardener. There is some common sense results that can be gleaned from this — gardens that use biochar have healthier soil. And, healthier soil makes for better gardens.