The main benefits of biochar can be generally described as soil health, remediation and odor filtering. More importantly, the biochar industry is finding more ways to use biochar as tangible solutions for our society. The list continues to grow and each new concept is proving to be another feather in the proverbial biochar cap.
Sample List Of Ways To Use Biochar
Container garden
Roof top gardens
Urban farming
Remediation
Detention/Retention ponds
Golf Courses
Lawn care (Organic Turf Management)
Flowers
Bioswales
Stormwater Runoff
Vineyards/Orchards
Airfields/Parking Lots
Plants/Shrubs/Trees
Coffee Growers
Pond algae control
And A LOT MORE…
Container Garden
Less watering needed
1/3 to ½ less frequent
Time saver for consumer
Holds nutrients and fertilizer in the soil longer
Less need for soil change outs.
Cost saver for contractor.
Replaces vermiculite, perlite, zeolite, Greensand, peat
Biochar is more environmentally friendly because it does not have to be mined
Biochar product is available in in various size packages.
Roof Top Gardens
Becoming more popular for homeowners and businesses.
Create relaxing outdoor spaces in urban centers.
Important elements to reduce heat and pollution.
Lighter soil that holds moisture longer.
Allows more options on types and sizes of plants that can be incorporated.
Easier for contractors to deliver and install.
See example from Cloud9 Rooftop Garden.
New Plantings
For growers:
Plants look taller and fuller, grown in smaller containers.
Quicker turn around to get product to market.
For Contractors and Landscape Architects:
Plants look taller, fuller and healthier at time of installation.
Happy clients, more referrals, better reviews
Fewer warranty replacements (healthier, water retention)
Grows your company, increases profitability and shows you are environmentally sensitive.
Remediation is an action or activities taken to reverse or stop environmental damage.
Benefits:
Absorbs and holds metals, salts and organic compounds – removes contact with plants.
Promotes introduction of microbes.
Improves overall soil quality:
Lowers density in high clay soils, increases drainage and root penetration.
Increases ability of poor sandy soils to retain water and nutrients.
Has a liming agent to counteract acidity in soils – mine tailings
Excellent absorbent (chemicals, metals, nutrients) = reduces leaching into groundwater.
Urban Farming
Becoming increasingly important to provide healthy food options to combat 'Food Deserts' in disenfranchised areas of cities.
We are becoming more sedentary as a society. Obesity and more drugs to counter effects of being unhealthy.
Builds a sense of community and achievement = safer and stronger neighborhoods.
Creates micro climate 'cool zones' and reduces air pollution.
Detention & Retention Ponds
Increasingly important to responsibly mitigate storm water to avoid adding to storm water and sewer system.
Biochar suspends chemicals, absorbs water, improves soil quality and is a catalyst for plant growth.
All benefits to reducing runoff and sediment erosion.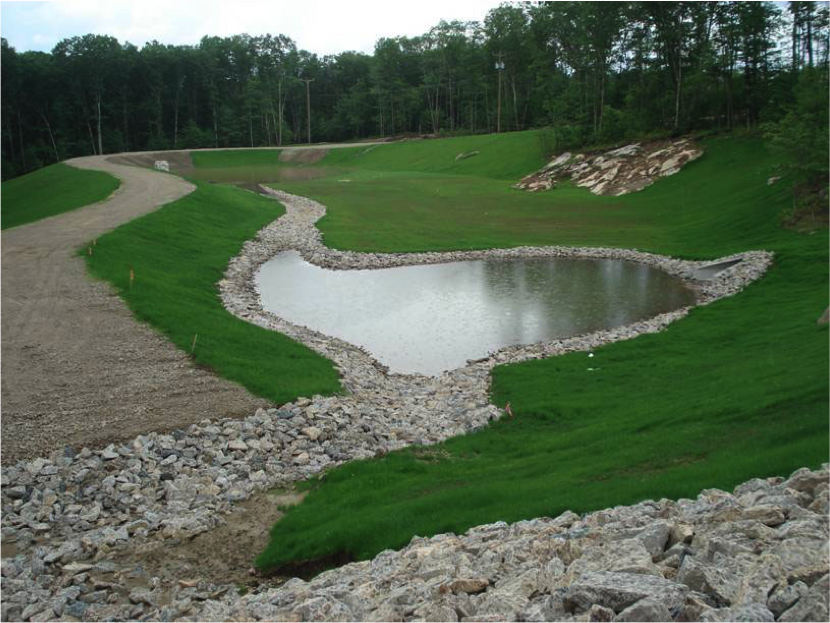 Airfields & Parking Lots
Work conducted to capture de-icing fluid and hydrocarbons
Utilize biochar with microbes to eat the contaminants
Turn top 2 feet of soil into capture and treat zone
50+ years of useful life
Most common non-point source of water pollution to rivers, lakes, estuaries, and beaches
Odor Removal
Utilize around kennel pads and similar operations to capture wastes and remove odor
Capable of self-cleaning with proper installation and addition of microbes
Cat litter….no kidding.
Large areas of manicured green space.
Lots of fertilizers, herbicides and insecticides.
Biochar reduces the need for these and captures the chemicals from traveling into groundwater and wildlife habitats.
Produces quicker, greener turf that requires less water.
Other Ways To Use Biochar
Orchards
Vineyards

Grapes had a 10% higher polyphenol content… greater aromatic quality. (Biochar in vineyards by Claudio Niggli und Hans-Peter Schmidt, 1 | 2010, S.318–322, www.ithaka-journal.net, ISSN 1663-052)

Hops
Pond Algae Control