If you want healthy trees, you need healthy soil and strong root growth. Encourage tree growth with biochar. This soil amendment, used for millennia, promotes soil and root health. Once applied, biochar remains in the soil for decades, if not centuries. Learn more below about the basics of biochar and why it is so advantageous for trees.
Biochar for Trees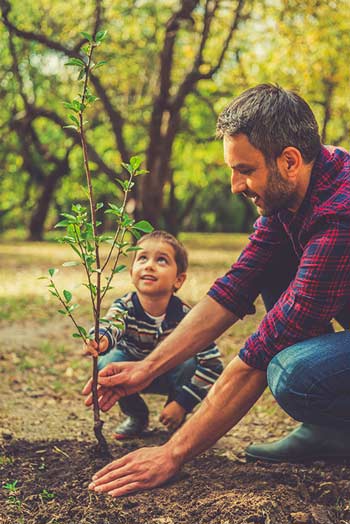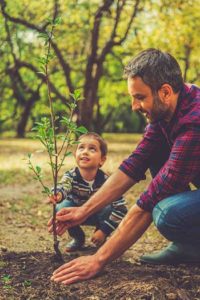 Biochar consists of biomass, including wood, subjected to high temperatures with little oxygen exposure in a process known as pyrolysis. It's the ultimate form of beneficial wood recycling, a sustainable loop starting with woody materials becoming a stabilized form of carbon-improving soils so trees can thrive.
Because biochar absorbs water exceptionally well, it increases soils' water-holding capacity while reducing nutrient loss from runoff. Drought resistance increases. This is especially critical for young trees establishing themselves during dry periods.
Biochar holds nutrients and allows them to release slowly. It also increases fertilization and reduces the need for frequent fertilizer applications. Aeration improves with biochar. In addition, biochar can absorb pollutants such as toxic metals, pesticides, and herbicides.
Pests affect tree health, and biochar suppresses certain nematodes and other plant pests. Biochar promotes resistance to common tree diseases such as Hymenoscyphus fraxineus, or ash dieback.
Promoting Healthy Root Growth
Biochar promotes root development and growth. It stores water, fertilizer, and natural plant decomposition for use by roots as needed. Biochar increases microbial activity, including that of mycorrhizal fungi. This organism works with root systems to increase water and nutrient absorption. Other microorganisms feed on pests in the soil, lessening potential damage to root systems.
Due to soil compaction and pollution, planting trees in urban areas is an arduous task. Transplanted trees often experience high mortality rates due to a lack of nutrients and limited amounts of water in the soil. In Stockholm, Sweden, urban trees planted in structured soils with biochar grew about one meter annually, a growth rate never before attained. The grass surrounding these trees was unusually lush.
Adding biochar to soils with low organic matter can make a world of difference when it comes to tree health. Biochar encourages healthy root growth as it contributes to other friendly soil microorganisms.
For best results, apply biochar to the tree's drip line, the area that tree roots eventually use to draw out nutrients. To figure out the drip line, determine the size of the tree's eventual crown at maturity. If possible, draw a circle on the soil corresponding to that size and apply biochar into the soil.
Biochar Combats Climate Change
Climate change causes tree stress as warming temperatures decrease growth. The entire process of collecting biomass, converting it into biochar, and adding it to soils reduces the amount of carbon dioxide, a primary driver of global warming. Biochar does not decay, which makes it an excellent way to sequester carbon in the soil.
Planting trees is essential for fighting climate change. Of course, if trees die at high rates, such plantings make little difference. Biochar can profoundly change tree survival odds.
To learn more about biochar soil conditioner and its benefits for trees, contact Wakefield Biochar today.